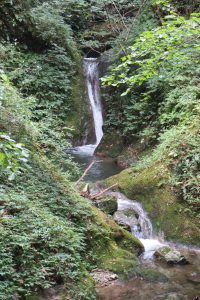 This Geosite has narrow valleys that spread far into the land. Since ancient times, people living in this area have intermingled beyond the valleys.
主な見どころ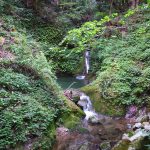 1
Iwatsubo Pothole
This is a large pothole at the bottom of the Sunami River that runs near Iwatsubo Shrine in Iwatsubo, Tottori City. It is 8 meters in diameter and 1.6 meters in depth. From the area of this pothole, the riverbed of the Sunami River becomes steep.
Tottori Convention & Tourism Association
0857-26-0756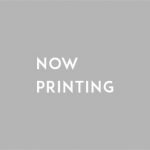 2
Iwatsubo Fault
This is a horizontal fault that runs from Kamisunami (in the southern part of Tottori City) to Iwatsubo and then to Kouchi, Shikano Town.
Tottori Convention & Tourism Association
0857-26-0756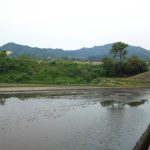 3
River Terraces of Nosaka River
River terraces are formed on the banks of the Nosaka River, a tributary of the Sendai River. Today there is a 7-meter-high terrace and a 13-metere-high terrace. The character for "terrace," "段," is used in the names of settlements on these river terraces.
Tottori Convention & Tourism Association
0857-26-0756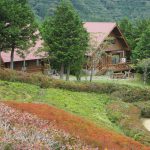 4
Azo Forest Park
In this forest park, there are accommodation facilities such as log cabins and a car camping site. There are tennis courts and skiing slopes near the park. The area of this park is identified in the regular star observation program by the Ministry of Environment as the darkest star observation point in Japan. (The darker the place, the better for the observation of stars.)
Azo Forest Park Office
0857-56-0888
ガイドさんのおすすめポイント!
In the Azo-Iwatsubo area, you can observe unique geological features formed by the activities of the Sunami River and the Nosaka River. The pothole in Iwatsubo, Taneganaru, the river terraces spreading from Uebara to Shimodan, and the Matsugami valley show the beauty of the nature created by the rivers. Steep mountains have been worshipped since olden times, and Matsugami Shrine was built here. In the Edo Period, the shrine rapidly developed under the protection of the Lords of the Tottori Domain. Today, this must-see shrine is known as the "Shrine in the Sky." On the mountainside of Mt. Takayama, there is a forest park with many recreational facilities. Many citizens visit the park to enjoy camping, skiing, and walking.       
Tottori City, Meiji District Residents' Hall Name:Taiji TakeuchiToshinobu Sakaoka (Representative of Matsugami Shrine)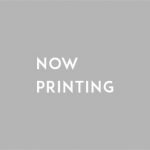 問い合わせ先
Tottori Convention & Tourism Association 2F Nikko Hondori Building, 160 Suehiro Onsen Town, Tottori City
TEL
0857-26-0756

HP
ジオサイトへのアクセス