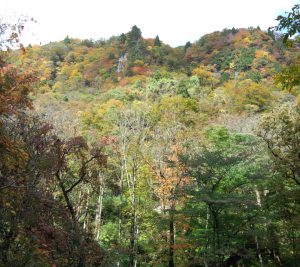 Natural beech forests are spread over the plateau covered with lava, and highland vegetables such as Hatagadaira Japanese radish are cultivated using the upland field of andosol and volcanic ash.
主な見どころ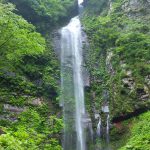 1
Kirigataki Waterfalls
A waterfall at the end of the Hatagadaira plateau in the north of Mt. Oginosen. The waterfall having almost 65m water head is located at an altitude of 750m, and water is falling from a 20m-wide small valley formed of Oginosen andesite which had flown to cover underlain breccia layer (debris-avalanche deposits). The water falling from the head becomes a mist, so that there is no waterfall basin. It is designated as a scenic beauty/monument in Hyogo Prefecture. One of the three best waterfalls in Tajima.
NPO Ueyama Highlands Eco Museum
0796-99-4600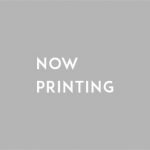 2
Kinuitonotaki Waterfalls
Numerous fine waterfalls smoothly flowing down the steep slope formed of debris-avalanche deposits.
NPO Ueyama Highlands Eco Museum
0796-99-4600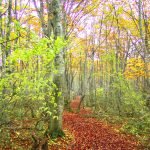 3
Mt. Oginosen
The highest peak on the plateau formed of lava flow from Oginosen monogenetic volcano. A mountain 1,310m high. There are many lava plateaus around the mountain. Beech forest spreading to the mountain summit forms a wonderful landscape. Natural forests almost 400 years old are also magnificent. Snow remains until late spring.
NPO Ueyama Highlands Eco Museum
0796-99-4600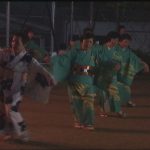 4
Kishida Saemon Dance (August 14, 15)
A Buddhist chant dance founded by the great monk Ippen when he toured around San'in region in the middle of the Kamakura Period. He named this dance Saimon. Hand dance performed in the event of the Bon festival. It features elegance while remaining a form of dedication in a dance. (Designated as an intangible cultural property in Shin'onsen Town)
Kishida Saemon Dance Preservation Society
-
ガイドさんのおすすめポイント!
The Kirigataki Valley is designated as a scenic beauty in Hyogo Prefecture. Trace a steep path to get to Kirigataki waterfall while viewing the beautiful valley, wild flowers, and great trees of horse chestnut and katsura. Care must be taken because there are slippery wooden bridges and valley walks. Two paths are provided to Mt. Oginosen. Beautiful beech woods are spread from Kozukko, though the trees are young, and Hatagadaira area is a natural forest having wild huge trees. The colored leaves in autumn are worth seeing.
NPO Ueyama Highlands Eco-Museum Kazuyuki Obata (Class 1)Kazuyuki Yamamoto (Class 2)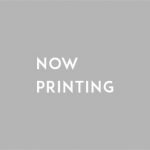 問い合わせ先
Ueyama Highlands Eco-Museum Ueyama Highlands Furusato-kan, 757-1 Ishibashi, Shin'onsen Town
TEL
0796-99-4600

HP
ジオサイトへのアクセス