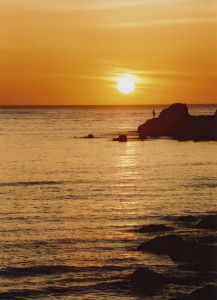 While there are plains and sand dunes in the Geosites in Amino and Kumihama, here you can find small villages along the rocky coast featuring roughly cut coastal cliffs. On the western side of the Geosite, around the border between the rocky coast and the sand dunes, there is the town of Yuhigaura Hot Springs.
主な見どころ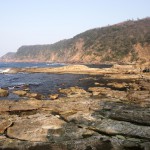 1
Goshikihama Seashore
There is a rocky coast with a range of coastal terraces. Here you can observe potholes and other unique, naturally formed phenomena. The rocks of this coast are tuff rocks. You can observe that rough, tuff rocks are made of volcanic rocks and volcanic ashes. There is an excursion path, benches, and public toilets in the park, and the park is a good place for excursions to collect seashells in the shoals.
Kyotango City Tourism Promotion Department
0772-69-0450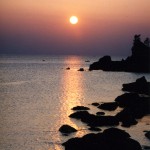 2
Yuhigaura Beach
You can view a beautiful sunset from this beach. On the east side of the beach are rocky shoals. From the sandy beach on the west side, you can enjoy a beautiful contrast between the sand and the sun setting on the Sea of Japan.
Yuhigaura-Kitsu Tourism Association
0772-74-9350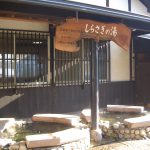 3
Kitsu Hot Springs
A legend says that a priest called Gyoki caused the hot water to spring up from the ground in 743 to heal a disease that had spread among the people. These hot springs used to be the only hot springs in Kyoto Prefecture. The water of these hot springs is simple hot spring water (hypotonic and mildly alkaline), and the water temperature is 40℃.
Yuhigaura-Kitsu Tourism Association
0772-74-9350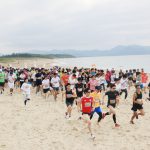 4
Sunset Beach Run in Kyotango (June)
Runners run on the beautiful, 6-km-long Yuhigaura Beach viewing the setting sun. You can appreciate the majestic beauty of nature here.
Sunset Beach Run in Kyotango Organizing Committee
0772-69-0470
ガイドさんのおすすめポイント!
The coast of the Goshikihama area is rocky. From the parking lot, you can observe the coastal platform below. This coastal platform consists of 15-million-year-old tuff rocks. You can observe multitudes of potholes on the surface of the coastal platform. The surrounding area is a marine park with excursion paths. On the rocky coast and in the pools, you can observe sea creatures. The complex shapes of the rocks give you some idea of what the ancient plateau was like in ancient times. The beach is called Goshikihama―literally "the beach of five colors"―because various-colored grains are contained in the sand.
Group name: NPO Group Town Development Support Center Name: Tadahiro Nakae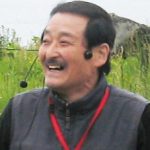 問い合わせ先
Kyotango City Tourism Association Shimooka, Amino Town, Kyotango City (on the premises of Amino Station of Kyoto-Tango Railway)
TEL
0772-62-6300

HP
ジオサイトへのアクセス