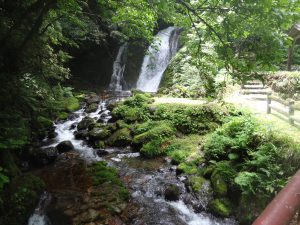 Lava, tuff, conglomerate caused by volcanic activity after the formation of the Japanese Archipelago are distributed. Valleys and waterfalls are formed by a variety of geological processes. Gentle slope of landslip land has been used for people's living since old times. It is also known as the birthplace of Tajima Beef cattle.
主な見どころ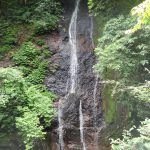 1
Kusube Valley (Kanametaki Waterfalls, Sandantaki Waterfalls)
A waterfall flowing through volcanic ash (welded tuff) rigidly hardened by heat.
Kami Town Ojiro Tourism Association
0796-97-2250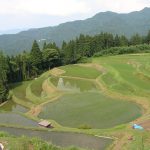 2
Rice Terraces of Nukita (Ueyama)
One of the best 100 rice terraces in Japan. Past landslip land is used.
Kami Town Ojiro Tourism Association
0796-97-2250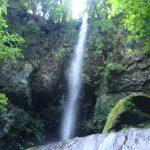 3
Yoshitaki Waterfalls
A waterfall of almost 30m in height which is formed on the rock wall of andesite upstream of the Yada River. It is also called as Urami-no-Taki (rear-view waterfall) because you can see the backside of the waterfall because the water head is protruded. Along the path leading to Yoshitaki, there is a spot for viewing Shimaji Oike pond below, which was formed at the bottom of the scarp caused by landslide separating the basalt in the upper part of the terraced rice paddies.
Kami Town Ojiro Tourism Association
0796-97-2250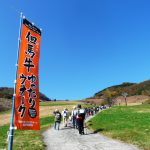 4
Tajima Beef Slow Walk (November)
A walking event is held to enjoy autumn leaves in Ojiro, the most beautiful village in Japan, while improving health. Local products can be tasted in the parking lot of the Ojiro skiing area where start and goal points are located.
Tajima beef slow walk executive committee
0796-97-3111
ガイドさんのおすすめポイント!
Rice terraces of Ueyama are rice fields using landslip landform in the mountains. Since the landslip land is a precious gentle slope, it has been valued by the people living in the mountains. The terraced rice paddies of arched patterns built conforming to the landform have been selected as one of the best 100 terraced rice paddies, because they are well harmonized with the surrounding landscape. It is the symbol landscape of Ojiro District which is a member of an association "Japan's most beautiful village". There are other attractions including Yoshitaki where the backside of a waterfall can be seen.
Ojiro Guide Club ,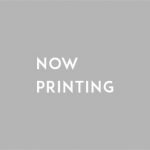 問い合わせ先
Kami Town Ojiro Tourism Association 739-1 Kanzui Ojiro-ku Kami Town
TEL
0796-97-2250

HP
ジオサイトへのアクセス