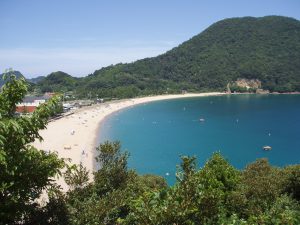 Sand and soil conveyed by the Sazu River were accumulated in a cove formed in a sunken valley caused by an increase of the sea level. A town was built on the sand bar along the seashore, and rice fields were built in the backswamp and along the valley in the upstream.
主な見どころ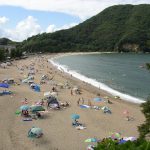 1
Sazu Kaigan Coast (Kundani Beach)
A village developed on the sand bar in the heart of the ria coast cove. The seashore has popular bathing beaches.
Sazu kaigan tourism association
0796-38-0113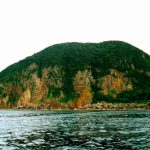 2
Shibayama Sekiheki (Shibayama Red Cliff)
A cliff some 200m in length and 49m in height formed of rhyolite. It seems reddish because metallic minerals get rusty. There are mine sites near the site.
Geopark and Marine Cultural Center
0796-36-4671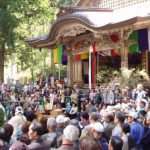 3
Mikawa Gongen
Mikawa Gongen, located at the foot of Mikawa Mountain, is said to have been established by Ennogyoja, the founder of Shugendo (a kind of mountain asceticism) in 674 by transferring Zao-Gongen. Naturally grown rhododendron are also beautiful.
Kasumi Tourist Association
0796-36-1234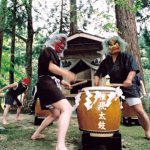 4
Mikawa Gongen Festival (May 3)
Mountain ascetics gather from all over Japan to the great spring-calling festival, Mikawa Gongen Festival. The ritual of Saitou Ogoma Houyou which is said to destroy sins with the fire of wisdom is one of the attractions of this festival.
Kasumi Tourist Association
0796-36-1234
ガイドさんのおすすめポイント!
A feature of the Sazu seashore is that there is no breakwater on the 700m sand beach. The natural seashore landscape still remains. You can see the mechanism of an island linked to the land, island mountain, and sand bar at a glance from the observatory Uomidai in the highest point. Mikawa Gongen located upstream of the Sazu River is one of the three greatest Gongens (an avatar of Buddha), and many visitors come to the festival on May 3.
NPO Tajima Marine School Hiroko Imai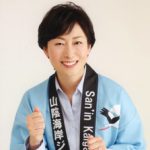 問い合わせ先
Kasumi Tourist Association 1-1 Nanukaichi, Kasumi-ku, Kami Town
TEL
0796-36-1234

HP
ジオサイトへのアクセス