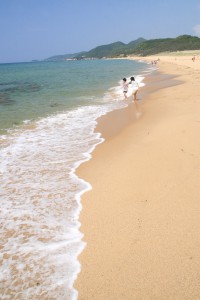 The sand dunes, sand bar, and lagoons were formed by sand accumulated by the raising of the surface of the Sea of Japan and seasonal winds from the Sea of Japan. The river water accumulated sand and soil at the mouth of the river, forming the plain. On the plateau looking over the Sea of Japan is Amino Choshiyama Tumulus, which is touted as one of the three greatest tumuli in Japan. You can learn about how people have lived here since olden times.
主な見どころ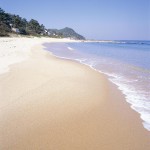 1
Kotohikihama Beach
Kotohikihama Beach is a 1.8-km-long beach known for its beautiful landscape of white squeaky sand and green pine trees. The sand on this beach actually consists of grains of quartz. The friction between the grains of sand makes the sand squeak. The beach is designated as a national natural asset as well as a Place of Scenic Beauty.
Kotohikihama Beach Singing Sand Museum
0772-72-5511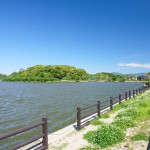 2
Lake Hanare
An ancient bay was dammed up by the ancient and modern dunes, as well as a growing sandbar, and became a lagoon. This is the largest lake in the region, some 3.8 km in circumference and 7 meters in depth.
Kyotango City Tourism Association
0772-62-6300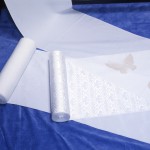 3
Town landscape, Tango Chirimen textile, Amino Shrine
The climate of the Tango region is humid with heavy rainfall. This climate is suitable for the production of silk textile, which is vulnerable to dry weather. This is why silk textile has been produced in this region since olden times. On the precincts of Amino Shrine, which is a national registered cultural asset, there is Koori Shrine, which honors the god of textiles and silkworm culture. On the hill to the south of the town are the Amino Choshiyama tumuli.
Kyotango City Tourism Promotion Department
0772-69-0450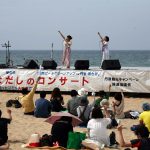 4
Bare Feet Concert (June)
This is an event to clean up the beach. Audiences can attend the concert if they pick up the garbage on the beach before the concert. This concert is an occasion to consider the importance of nature and cherish the beautiful landscape of Tango. Many artists play and sing on stage.
Kotohikihama Beach Singing Sand Museum
0772-72-5511
ガイドさんのおすすめポイント!
Kotohikihama Squeaking Sand Museum, located on Route 178 near Kotohikihama Beach, is the one and only museum specializing in squeaking sand. There are exhibitions to learn about the history of squeaking sand, and squeaking sands gathered from other parts of Japan and abroad at this museum. You can experience many activities here. You can make the sand squeak by yourself. There are also unique facilities to learn about the squeaking phenomenon. You can learn about and experience squeaking sand in a different way from your experience on the beach. Panels of photographs of the natural environment of Kotohikihama Beach and micro seashells inhabiting the beach are also exhibited. Adults and children alike can enjoy this museum.
Group name: NPO Group Town Development Support Center Name: Tadahiro Nakae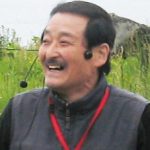 問い合わせ先
Kyotango City Tourism Association Shimooka, Amino Town, Kyotango City (on the premises of Amino Station of Kyoto-Tango Railway)
TEL
0772-62-6300

HP
ジオサイトへのアクセス